Raise a Floppa - The Loop
Play Sound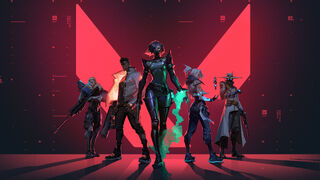 "

Find more ways to plant the Spike and style on your enemies with scrappers, strategists, and hunters of every description.

— Website description.

[1]
Agents are the playable characters in VALORANT, representing an agent of the VALORANT Protocol. Each agent serves as a different class with four abilities and has a unique Contract.
Summary
Agents have one Signature Ability which they get for free each round.
Riot was aiming to launch the game with 12 agents, but only 8 were available in the early press builds.[2] The March 29, 2020, private event introduced Breach. Since the Closed Beta launch on April 7, 2020, Raze was added along with the map Split, bringing the Agent total to 10. Five agents are available at first launch, with two more that can be easily unlocked by leveling up in the game. More agents can be unlocked by taking Contracts and gathering XP on them.
Agents have a base health of 100; Light Shields bring the maximum health to 125, and Heavy Shields to 150.
It is the intention of the developers that a new agent be released around once per act. New agents take 12–15 months to develop, and their design is focused around points such as what's missing from the game's current playstyles, are there any prospective thematics that present big opportunities, and what's needed for better game health.[3]
Roles
Each agent fulfills one of four roles, defined by their abilities and playstyle:
List of Agents
Note: The numbers in the "No." column are in the chronological order of when the agents were recruited by the VALORANT Protocol. You can find their numbers in game by going to their contracts and looking at their banners. There is an eighth agent in the VALORANT Protocol but their identity is unknown, and they are not yet a playable agent in VALORANT[4].
Upcoming Agents
There are currently no details for any upcoming agents.
Scrapped Agents
Trivia
The in-game heights of the agents have to be kept the same so that no agent's height has an advantage over others, but the canon heights of the agents has been shared by the game's Creative Director.[5]
References
Agents

Quotes
Astra • Breach • Brimstone • Chamber • Cypher • Fade • Jett • KAY/O • Killjoy • Neon • Omen • Phoenix • Raze • Reyna • Sage • Skye • Sova • Viper • Yoru
Scrapped
Crusader • Joules • Shatter