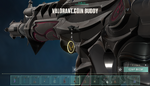 Gunbuddies are a type of cosmetic in VALORANT. They are weapon charms that attach to weapons to modify their appearance. They can mostly be unlocked by completing Agent Contracts, earning through Battle Pass progression, or purchasing them from Collection Bundles.
There are currently 161 different gunbuddies.
Current Gunbuddies
All agent contracts contain a gunbuddy that is unlocked at Tier 6.
The battle pass contains between 9 to 12 gunbuddies which are spread out over both the paid and free tracks. These buddies are always earned at the same tier or chapter (depending on how many buddies the pass has). The free track always has 3 buddies that are always unlocked after completing chapters 2, 6, and 9, and unlocking the paid tracks gives access to up to 6-9 more buddies that are unlocked at other tiers.
To see the tiers that each buddy was unlocked at, see the article for that Battle Pass' act (e.g. Episode 01: IGNITION: Act 1#Battle Pass)
Gunbuddies from collection bundles can be found in bundles that are at least Premium Edition-tier. They can be bought on their own for

475 but are given for free should the player chose to buy the whole bundle (For bundles containing buddies, the bundle price is only equal to the total cost of the gun skins).
SPECTRUM and the VALORANT Go! series are the only bundles to have had more than one gun buddy in them. The Give Back collection is the only one to have a different pricing for its buddy, costing

975
Prime Gaming
The following gunbuddies are rewards unlocked by Prime Gaming subscribers who connect their account with their Riot Games account:
Competitive
At the end of each episode, players who played Competitive games and earned a rank will receive a gunbuddy based on the highest Act Rank they achieved during the episode. Each episode has its own ranked buddies, and there are buddies for every rank.
Miscellaneous
| Name | Gunbuddy | Notes |
| --- | --- | --- |
| 2021 VCT Masters Winner | | Given to pro players that have won a 2021 VCT Masters event |
| Closed Beta Coin | | Given to players who completed Tier 5 of the Closed Beta Pass |
| Dallah | | Given to all accounts that existed when the Middle Eastern region was launched |
| Fist Bump | | Given to players by Riot and their employees |
| High Top Heat | | Given to viewers who watched 60 minutes of the 2021 Spike Nations tournament on October 9th 2021 |
| Snow Bro | | Given to players who played a game of Snowball Fight during its availability in Patch 1.14 |
| VALORANT Coin | | Complete Tier 6 of the New Player Contract |
| Year One | | Complete Tier 7 of the YR 1 Anniversary Pass |
Cosmetics

Types
Gunbuddies • Player cards • Player titles • Sprays • Weapon skins
Store
Night Market • Radianite Points • Valorant Points
Collections
Act Battle Passes: Aerosol • Artisan • Cavalier • Couture • Depths • DOT EXE • Hivemind • Infinity • Jigsaw • Kingdom (K/TAC) • Lightwave • Monarch • Outpost • Polyfox (Polyfrog) • Prism III • Red Alert • Ruin • Schema • Serenity • Songsteel • Surge (Nitro) • Varnish • Versus
: Convex • Galleria • Infantry • Luxe • Prism II • Rush • Sensation • Smite
: Aristocrat • Avalanche • Horizon • Minima • Nunca Olvidados • Prism • Sakura • Silvanus • Wasteland • Winterwunderland
: Celestial • Ego • Gravitational Uranium Neroblaster • Ion • Magepunk • Nebula • Oni • Origin • Prime (Prime//2.0) • Reaver • Recon • Sovereign (Forsaken • Tethered Realms) • Spline • VALORANT Go! Vol. 1 (Vol. 2)
: BlastX • Glitchpop • RGX 11z Pro • Ruination (Sentinels of Light) • Singularity • SPECTRUM
: Elderflame
Other: Give Back • New Player Contract • Year One
Unreleased: Arcade/Toy • Asgard/Drips • Imperium • Luxe (Beta) • Reaver (Beta) • Ronin
Related
Agents Contracts • Run It Back Bundle