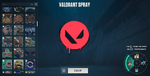 Sprays are cosmetic images in VALORANT that can be applied on any map surface. Players can equip three sprays; one for pre-round, one for during a round, and one for post-round. Some sprays are animated and others also have sound effects. They can mostly be unlocked by completing Agent Contracts, earning through Battle Pass progression, or purchasing them from Collection Bundles.
There are currently 206 different sprays.
Current Sprays
All agent contracts contain three sprays. These are unlocked at Tiers 1, 4, and 7, with the exception of the five agents who are immediately unlocked for new players (Brimstone, Jett, Phoenix, Sage, and Sova); their first two sprays are unlocked at Tiers 2 and 5 instead
| Agent | Spray 1 | Spray 2 | Spray 3 |
| --- | --- | --- | --- |
| Astra | Galaxy Brain | Astral Plane | Astra |
| Breach | K.O. | Guns Out | Breach |
| Brimstone | The Big One | Getting Reps | Brimstone |
| Cypher | The Seeker | I See You | Cypher |
| Jett | Watch This | You Better Run | Jett |
| KAY/O | Drained | Training Bot | KAY/O |
| Killjoy | Variable Removed | Don't Cross Me | Killjoy |
| Omen | It Hunts | Dark Focus | Omen |
| Phoenix | Claim The Crown | Spotlight | Phoenix |
| Raze | Boomshaka | Bombshell | Raze |
| Reyna | Leer | Marked For Death | Reyna |
| Sage | All Good | Pulse Check | Sage |
| Skye | Wild Life | On Your Trail | Skye |
| Sova | Take Flight | On Target | Sova |
| Viper | Pick Your Poison | Deadly Venom | Viper |
| Yoru | Who's Next | Sharp | Yoru |
The battle pass contains between 13 to 16 sprays which are spread out over both the paid and free tracks. These sprays are always earned at the same tier or chapter (depending on how many sprays the pass has). The free track always has 2 sprays that are always unlocked after completing chapters 4 and 8, and unlocking the paid tracks gives access to up to 11-14 more sprays that are unlocked at other tiers.
To see the tiers that each spray was unlocked at, see the article for that Battle Pass' act (e.g. Episode 01: IGNITION: Act 1#Battle Pass)
Sprays from collection bundles can be found in bundles that are at least Premium Edition-tier. They can be bought on their own for

325 but are given for free should the player chose to buy the whole bundle (For bundles containing sprays, the bundle price is only equal to the total cost of the gun skins).
Bundles from the VALORANT Go! series are the only ones to have had more than one spray in them, with one for each agent represented in the bundle. The Give Back collection is the only one to have a different pricing for its spray, costing

675.
Prime Gaming
The following sprays are rewards unlocked by Prime Gaming subscribers who connect their account with their Riot Games account:
Miscellaneous
Closed Beta sprays
The following sprays were available during the Closed Beta. These were removed from all accounts upon VALORANT's live release, though some were re-released with updated visuals.
Cosmetics

Types
Gunbuddies • Player cards • Player titles • Sprays • Weapon skins
Store
Night Market • Radianite Points • Valorant Points
Collections
Act Battle Passes: Aerosol • Artisan • Cavalier • Couture • Depths • DOT EXE • Hivemind • Infinity • Jigsaw • Kingdom (K/TAC) • Lightwave • Monarch • Outpost • Polyfox (Polyfrog) • Prism III • Red Alert • Ruin • Schema • Serenity • Songsteel • Surge (Nitro) • Varnish • Versus
: Convex • Galleria • Infantry • Luxe • Prism II • Rush • Sensation • Smite
: Aristocrat • Avalanche • Horizon • Minima • Nunca Olvidados • Prism • Sakura • Silvanus • Wasteland • Winterwunderland
: Celestial • Ego • Gravitational Uranium Neroblaster • Ion • Magepunk • Nebula • Oni • Origin • Prime (Prime//2.0) • Reaver • Recon • Sovereign (Forsaken • Tethered Realms) • Spline • VALORANT Go! Vol. 1 (Vol. 2)
: BlastX • Glitchpop • RGX 11z Pro • Ruination (Sentinels of Light) • Singularity • SPECTRUM
: Elderflame
Other: Give Back • New Player Contract • Year One
Unreleased: Arcade/Toy • Asgard/Drips • Imperium • Luxe (Beta) • Reaver (Beta) • Ronin
Related
Agents Contracts • Run It Back Bundle