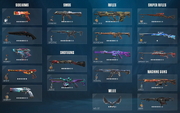 Weapon Skins are cosmetics in VALORANT that modify the appearance of weapons. They can be bought from the store with Valorant Points and can be upgraded using Radianite Points to further modify appearance. They can also be be bought from an active Night Market, and a few can be obtained for by completing Contracts or Battle Passes.
Each weapon skin shares a theme with about three to five other weapons, the exception being Agents' skins.
There are currently 332 different weapon skins.
Obtaining skins
Agent Contracts
Agents' skins can be obtained when a player completes an Agent Contract by reaching Tier 10.
Battle Passes
Every act contains a new battle pass that has skins for 13 weapons. Each weapon's skin will come from one of three skin collections unique to the act's battle pass. Since IGNITION: Act 3, one of these collections also has variants that players can unlock with any Radianite Points that they have. Players immediately unlock one of the skins upon buying the pass. The rewards upon reaching Tier 50 are always the same; the Free Track, which all players have access to, awards a sidearm skin, and players who have bought access to the Premium Track unlock a melee skin.
Store
Weapon skins can be bought from the store from the player's daily offers or the featured bundle. The price of the skin depends on the weapon's edition tier:
Edition
Price
Select
875
Deluxe
1275
Premium
1775
Exclusive
(Prices vary)
2175
2675
Ultra
2475
List of skins
Cosmetics

Types
Gunbuddies • Player cards • Player titles • Sprays • Weapon skins
Store
Night Market • Radianite Points • Valorant Points
Collections
Act Battle Passes: Aerosol • Artisan • Cavalier • Couture • Depths • DOT EXE • Hivemind • Infinity • Jigsaw • Kingdom (K/TAC) • Lightwave • Monarch • Outpost • Polyfox (Polyfrog) • Prism III • Red Alert • Ruin • Schema • Serenity • Songsteel • Surge (Nitro) • Varnish • Versus
: Convex • Galleria • Infantry • Luxe • Prism II • Rush • Sensation • Smite
: Aristocrat • Avalanche • Horizon • Minima • Prism • Sakura • Silvanus • Wasteland • Winterwunderland
: Celestial • Ego • Gravitational Uranium Neroblaster • Ion • Magepunk • Nebula • Oni • Origin • Prime (Prime//2.0) • Reaver • Recon • Sovereign (Forsaken • Tethered Realms) • Spline • VALORANT Go! Vol. 1
: BlastX • Glitchpop • Ruination (Sentinels of Light) • Singularity • SPECTRUM
: Elderflame
Other: Give Back • New Player Contract • Year One
Unreleased: Arcade/Toy • Asgard/Drips • Imperium • Luxe (Beta) • Reaver (Beta) • Ronin
Related
Agents Contracts • Run It Back Bundle