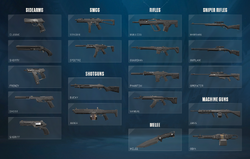 In Valorant, Agents have a variety of weapons to utilize and cause damage to other Agents.
Overview
Agents have different variations of weapons, typically firearms, to cater to specific playstyles or metas. Weapons are separated by two categories, Sidearms and Primary weapons. Sidearms consists of handguns used for close-quarters. Primaries include SMGs and Shotguns that are used for close-quarters, Sniper rifles for long range, and Rifles and Machine guns to accommodate for both close and long range.
Weapons can be purchased by Agents using creds during the pre-round sequence. Each Agent is equipped with a Knife and the Classic sidearm for free by default. Agents will keep the weapons they purchase through each round until they die. Weapons can also be picked up off the ground from deceased players, both friendly and hostile, which will carry on with the player into the next round.
List of Weapons
Sidearms
Spike Rush Only
Primary
SMGs
Rifles
Shotguns
Machine Guns
Sniper Rifles
Melee
Update History
v1.09
Jump Nerf

Jump land inaccuracy state changed from gradual >>> binary
Jump land inaccuracy duration increased from .2 >>> .225
Jump land inaccuracy value increased from 5.0 >>> 7.0 (more inaccurate for .225s after a land)

We've noticed a trend where players landing from a jump are able to shoot accurately sooner than is reasonable. While this issue is most pronounced on the Operator, it is something that we've noticed across all weapons. Jump peeking is valuable for the mixup potential it provides but it was proving too difficult for players to reasonably deal with. These changes retain that mixup potential while slightly increasing the time before the peeker can fire with perfect accuracy.
Shotgun Nerf

All shotguns aimpunch update

When getting headshot by a shotgun, the aimpunch will be lower than all the other weapons

All shotguns tagging tuned for targets beyond 10 meters

Hitting an enemy past 10 meters will apply a different tagging value to them instead of the standard tagging
New tagging: 30% slow for .5s on a smooth curve going back to normal speed

The goal of these changes is to improve the feel of playing against shotguns and to ensure that they don't end up doing odd things. For example, tagging or aimpunching people from longer than expected ranges and then a teammate ends up killing someone who's debuffed, or makes it hard to fight back against a weapon that should be deadly up close but fairly non-threatening outside its effective range.

Hit Impack VFX update

We've made some small adjustments to hit VFX to try and improve hit registration clarity. With how sensitive changes around hit registration can be, we'll be keeping an eye on player feedback on these changes and make adjustments accordingly.

Server hit VFX confirms will now spawn at the location of the hit on the character and stay attached to that position (previously, it spawned at the game space location and stayed there)

We've had issues with hit registration clarity caused by players moving into hit VFX (i.e. a player crouches their head into the space of a body shot VFX), which caused confusion on where a shot landed. This change should make it clear where a shot hit, and where on the body, even if a character is moving.

An additional client-predicted small spark VFX now spawns immediately at the game space location of a hit

With the change to attach our traditional server hit VFX, we wanted to add additional immediate bullet feedback so you can see the area where your bullet landed and adjust your aim accordingly. Think of this new VFX as an improved tracer. It's important to note that a bullet is client-predicted: seeing this DOES NOT mean your shot has registered on the server (similar to tracers).

Adjusted the sparks hit VFX coloring and shape adjusted to more

Context: We want players to be able to play with either of these options without feeling one gives better clarity than the other closely resemble blood VFX shape

Adjusted the size of headshot VFX, where both blood and sparks are scaled down slightly

Especially at large ranges, headshot VFX would often cover up the head of a player and add additional difficulty in tracking players through the effect. We've scaled down this VFX slightly in an attempt to make it easier to keep track of targets.
You will no longer enter the "walking accuracy" state when transitioning from run to stop.

We noticed many players were entering a walking accuracy state during their run-to-stop transition that made it appear as if shots they fired/landed were done at full speed.

Deadzone accuracy speed threshold increased: 25% >> 30%

Now that you can't gain walk accuracy while transitioning from a run to a stop, we've also slightly increased the size of the deadzone (full accuracy state) to make it a bit easier to get an accurate shot out quickly.
Community content is available under
CC-BY-SA
unless otherwise noted.