Raise a Floppa - The Loop
Play Sound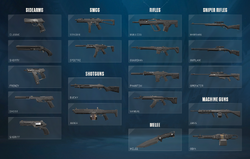 Weapons are used by agents to damage and kill/destroy enemy agents and their utility.
Overview
Agents have different variations of weapons, typically firearms, to cater to specific playstyles or metas. Weapons are separated by two categories, Sidearms and Primary weapons. Sidearms consists of pistols, whilst primaries include SMGs, shotguns, rifles, sniper rifles, and machine guns.
Guns have limited amounts of ammo but come with reserve magazines. Bullets deal different amounts of damage depending on the gun, the body part they hit, and the distance between the shooter and the target. Each gun deals a set amount of damage to an enemy's body at its shortest range and then uses multipliers on this value to calculate the damage it will deal to the head and legs at close range and all body parts at further ranges. Resulting numbers with a decimal value are rounded down to the next integer value.
Weapons can be purchased by Agents using creds during the pre-round sequence. Each Agent is equipped with a Knife and the Classic sidearm for free by default. Agents will keep the weapons they purchase through each round until they die. Weapons can also be picked up off the ground from deceased players, both friendly and hostile, which will carry on with the player into the next round.
List of Weapons
Sidearms
Spike Rush Only
Primary
SMGs
Shotguns
Rifles
Sniper Rifles
Machine Guns
Melee
Update History
v3.0
Jumping inaccuracy
Hit Impact VFX update
Trivia
The canon lengths of VALORANT's weapons have been shared by the game's Premium Content Art Lead[1]
References