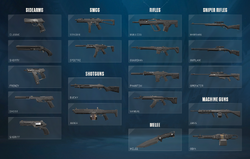 In Valorant, Agents have a variety of weapons to utilize and cause damage to other Agents.
Overview
Agents have different variations of weapons, typically firearms, to cater to specific playstyles or metas. Weapons are separated by two categories, Sidearms and Primary weapons. Sidearms consists of handguns used for close-quarters. Primaries include SMGs and Shotguns that are used for close-quarters, Sniper rifles for long range, and Rifles and Machine guns to accommodate for both close and long range.
Weapons can be purchased by Agents using creds during the pre-round sequence. Each Agent is equipped with a Knife and the Classic sidearm for free by default. Agents will keep the weapons they purchase through each round until they die. Weapons can also be picked up off the ground from deceased players, both friendly and hostile, which will carry on with the player into the next round.
List of Weapons
Sidearms
Spike Rush Only
Primary
SMGs
Shotguns
Rifles
Sniper Rifles
Machine Guns
Melee
Update History
v3.0
Bullet tagging decreased from 75% slow >>> 72.5% slow
Deadzone accuracy speed threshold decreased from 30% >>> 27.5%
v1.09
Jumping inaccuracy
Jump land inaccuracy state changed from gradual >>> binary
Jump land inaccuracy duration increased from .2 >>> .225
Jump land inaccuracy value increased from 5.0 >>> 7.0 (more inaccurate for .225s after a land)
v1.07
Hit Impact VFX update
Server hit VFX confirms will now spawn at the location of the hit on the character and stay attached to that position (previously, it spawned at the game space location and stayed there)
An additional client-predicted small spark VFX now spawns immediately at the game space location of a hit
Adjusted the sparks hit VFX coloring and shape adjusted to more closely resemble blood VFX shape
Slightly scaled down the size of headshot VFX (blood and sparks)
You will no longer enter the "walking accuracy" state when transitioning from run to stop.
Deadzone accuracy speed threshold increased: 25% >> 30%
Trivia
References